Click Here For The Arizona DUI Penalty Chart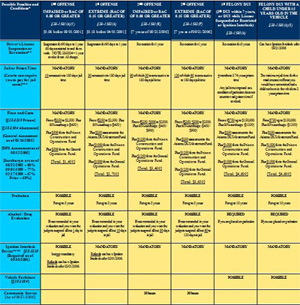 * This chart displays projections of the possible penalties you could face. Because each person's situation is different and courts and judges within Arizona differ in how they treat DUI, your outcome could be different.
** What is the difference between a suspension and a revocation? [Also, see §28-3304 & §28-3306] - A suspension has a specific start and end date; when the suspension period ends, you pay the reinstatement fee and any reapplication fees to restore your driving privileges. Revocations are indefinite; there is a minimum length of time, usually one to three years, but the action does not automatically end on that date. You must go through an investigation process to determine whether it would be safe to restore your driving privileges. If approved for reinstatement, there are reinstatement and reapplication fees.
*** Jail Costs: These costs can range from $80.00 to $200.00 for the first day of incarceration and from $40.00 to $90.00 for remaining days. The final cost depends on the facility and the court may waive these costs.
**** Ignition Interlock/Deep Lung Air Device: An ignition interlock device is a breath test machine that is connected to the ignition of your vehicle. In order to start your car, you must provide a breath sample that is free of alcohol. Once your vehicle is running, you will periodically have to blow into the device to keep your vehicle running. If the machine reads alcohol on your breath, its will disable your vehicle, flash your lights and honk your horn.
ALL INFORMATION IS CONFIDENTIAL
Our Office
(602) 476-9669